~Monday, October 9, 2017~ I got up at 8 o'clock and after a shower, I headed down to a sitting area off the lobby of the main building where there was a nice view and a bunch of tables.
There was a sign at the entrance that said, "Reserved for Homeowners' Meeting," but no one was in there.
The lady at the registration desk said, "You can go on in. The meeting doesn't start until 10 o'clock."
I enjoyed some complimentary coffee from the lobby, while I worked on my blog entry about my day yesterday and the one about the highlights of my second decade on the planet, which I also posted later in the day.
People started coming in for the meeting at about 9:50, and I packed up and set out for some breakfast after asking the person at the registration desk if she could recommend a place close by for some bagels.
---
BREAKFAST AT MURDICK'S
I had some coffee, a sesame seed bagel (Sorry, Chuck!), and although it wasn't on the menu, I asked if I could have an egg on the side with it.
"Are you going to eat here?" asked the cashier, who looked a little like Oprah Winfrey in her role in The Color Purple.
"Yes," I said.
"Okay, we can do that," she said.
I grabbed some coffee to enjoy while I waited:
A few minutes later, the cook brought my bagel and egg to my seat:
When I was done, I went up to the cashier and I said, "I just wanted to tell you that my bagel was deliciously soft and my egg was perfectly cooked. And I appreciate both of you."
She bowed her head as if she were praying while I was talking and at the end, looked up, smiled, and said, "Thank you for taking the time to say that."
On the way back to my hotel, I passed by Edgartown Books, which had this sign beside it advertising a cafe behind it. Now that's a flag I could get on my knees for.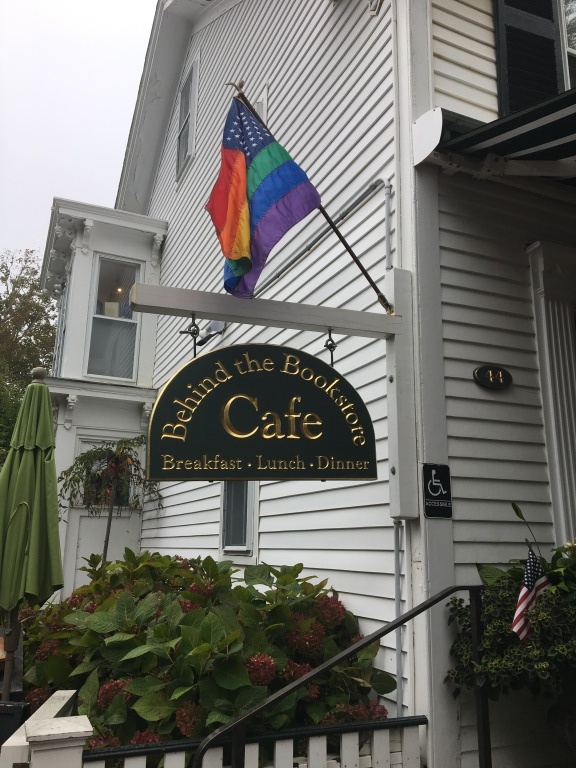 ---
AN AFTERNOON OF WRITING
The homeowners' meeting was over when I got back to the hotel, and I took a seat back in that area and did some glorious writing for several hours. And when I say writing, that includes the time to get my pictures onto my laptop in order to upload them into my blog entries, which is quite a tedious process including these steps:
Uploading them from my phone to Dropbox.
Renaming them on Dropbox so that their filenames will indicate what they are.
Downloading them to my laptop.
Uploading them to a WordPress photo album.
Adding them into my blog entry.
---
LUNCH AT THE LOCAL DINER
I walked around with the goal of finding somewhere to have lunch. When I came across the Edgartown Diner, I thought of this recent Facebook posting by my friend Hugh Hollowell:
In a strange town all by myself, so of course I found a diner to eat breakfast in. In a real sense, they are like churches, with a public liturgy, a crowd of regulars, a common text and while there are many choices, we all have our favorites. You have your twenty-third psalm, I have my ham-and-cheese omelet with a side of fruit. There is a common architecture: Formica tables and broad expanses of glass facing the street, a counter that serves the single folks, the pot of coffee, the orange juice machine. Unlike most churches, however, newcomers are welcome with no expectation you will ever be back. They are content for you to join their community just for today, to participate as much or as little as you want, and to leave happier than when you arrived. "I don't know you or your story, fella, but you look hungry. Come on in," they seem to say. And so I do. They are not offended by the book in my hand, by my desire for solitude on a rainy morning, by the stubble on my unshaved face or the coffee stain on my t-shirt. Everyone is welcome at the church of the diner.
And so I entered:
And because I was a "single," I took a seat at the counter. I hadn't really planned on having another fish meal, but what they heck. I was in a local diner, caught up in the moment, and vacationing on Cape Cod for crying out loud.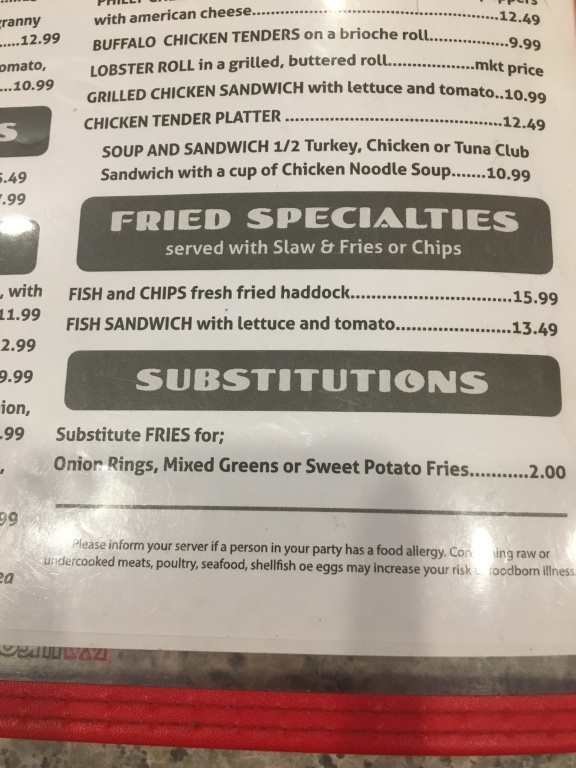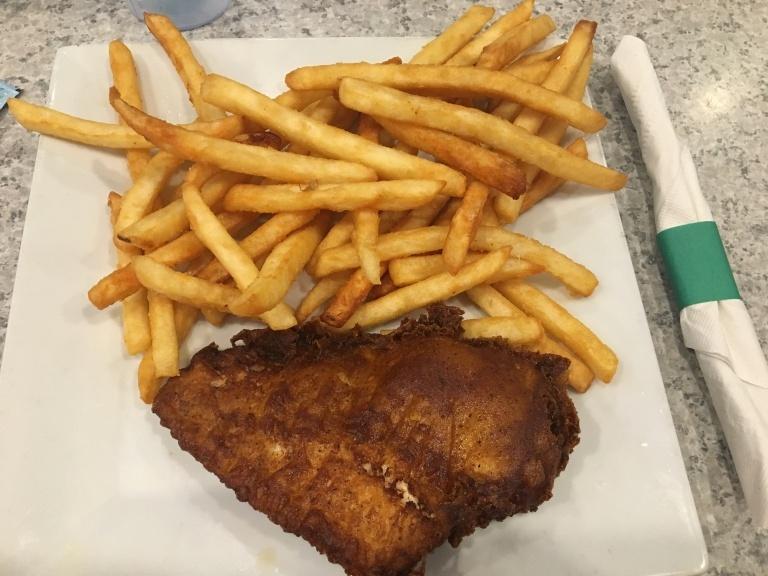 On the way back to the hotel from the diner, I stopped in: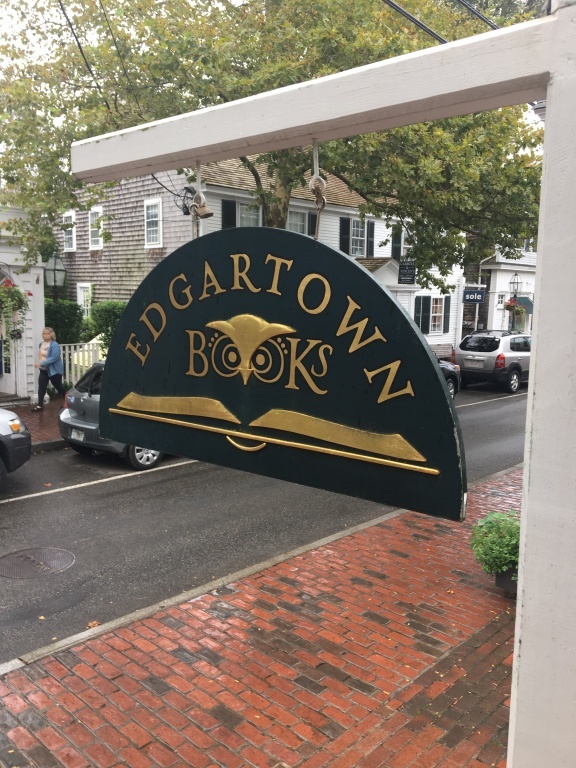 These were the stairs leading up to the second floor: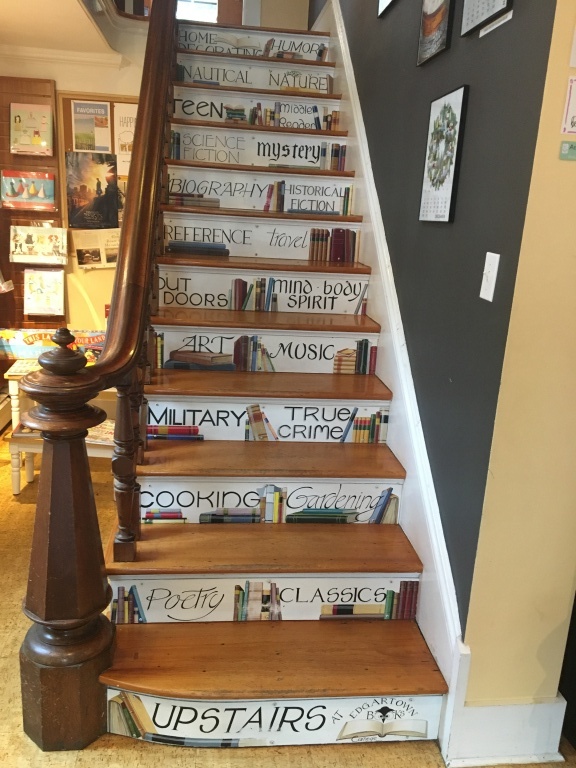 I just browsed, and this was probably my favorite book title of all, whose synopsis read: "Edamame and Edapapa meet their new 'little bean' in this adorable baby board book. With bright, colorful illustration and a touch of clever rhyming, Edamame and Edapapa share the arrival of their newest family member."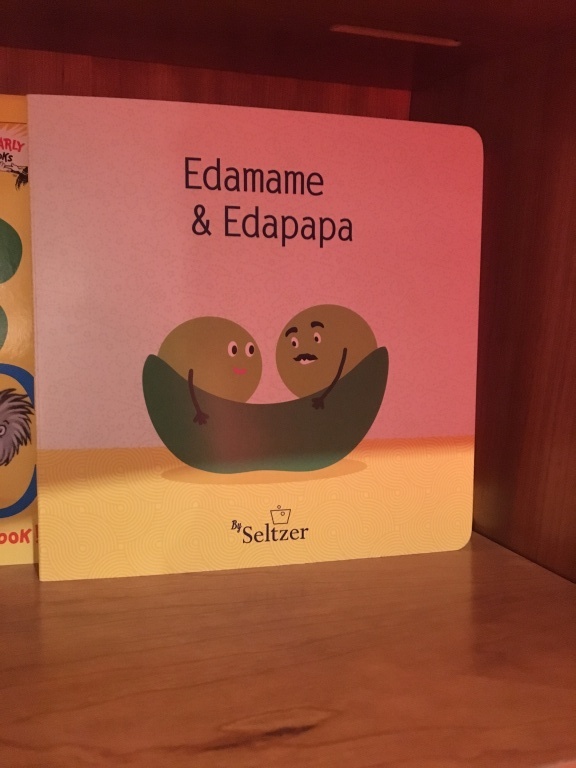 ---
WRITING AND NAPPING
I did some more writing in the afternoon and then took a glorious nap.
The remnants of hurricane-turned-tropical-storm Nate were passing through today, so although it wasn't windy, really, it was a gray, drizzly day. Perfect napping weather.
---
DINNER
My "plan" for tonight was to go to a place I had seen while out walking last night and have some fried clams. But when I got to The Seafood Shanty and saw these two things on the menus, the rest was history: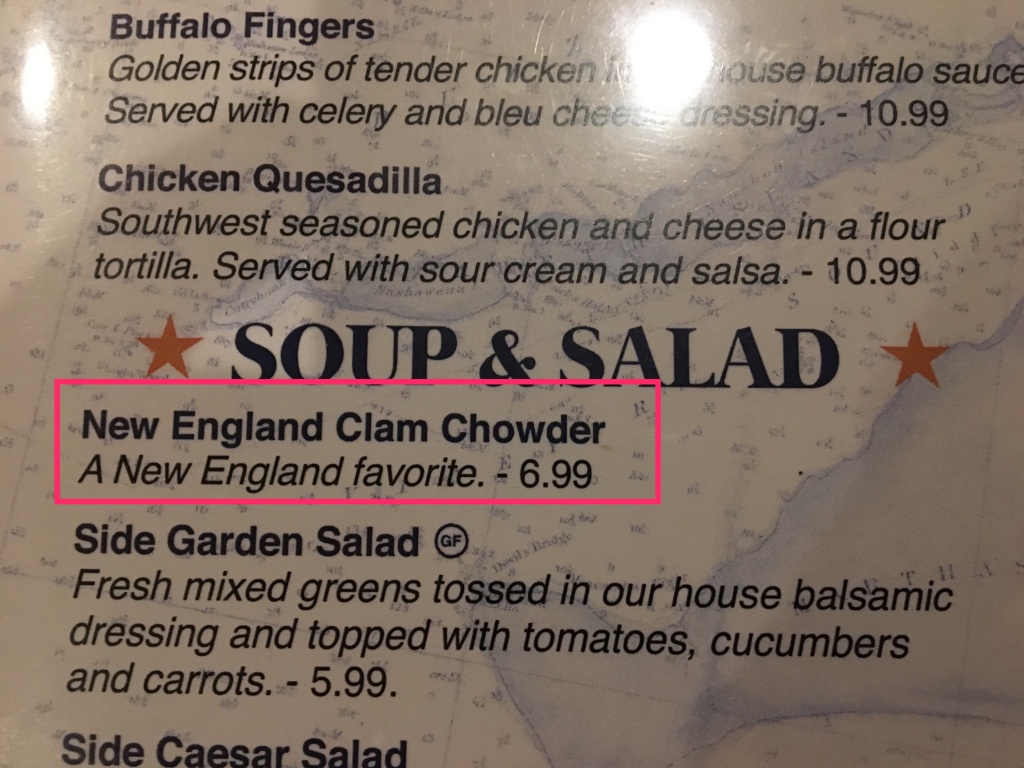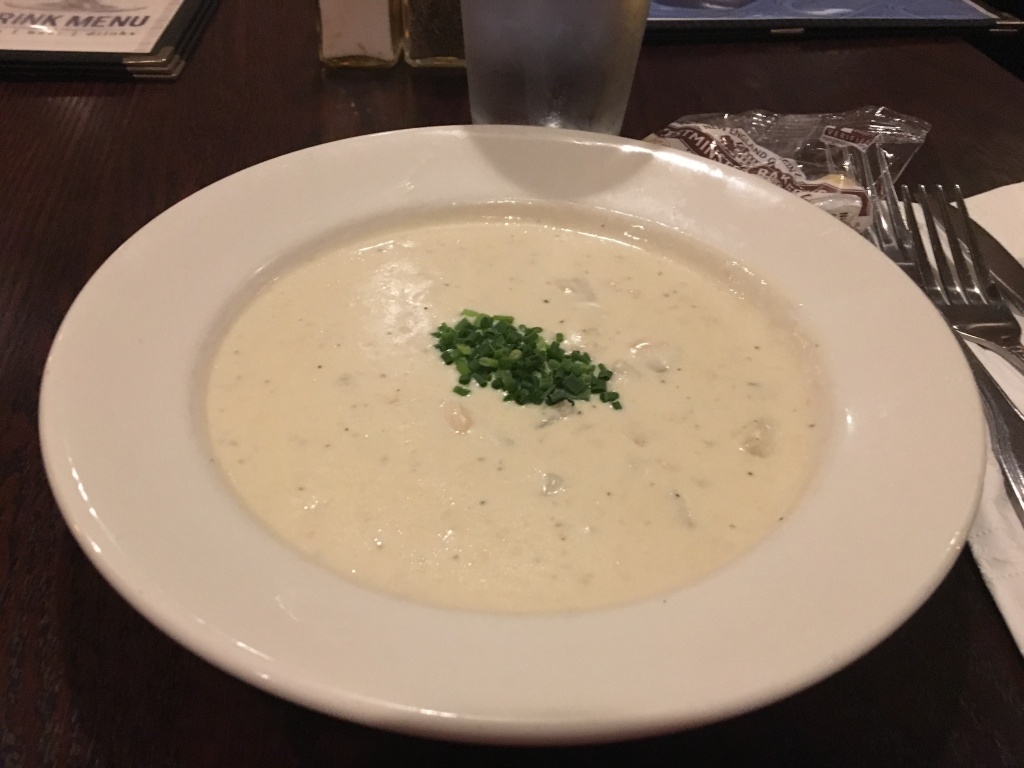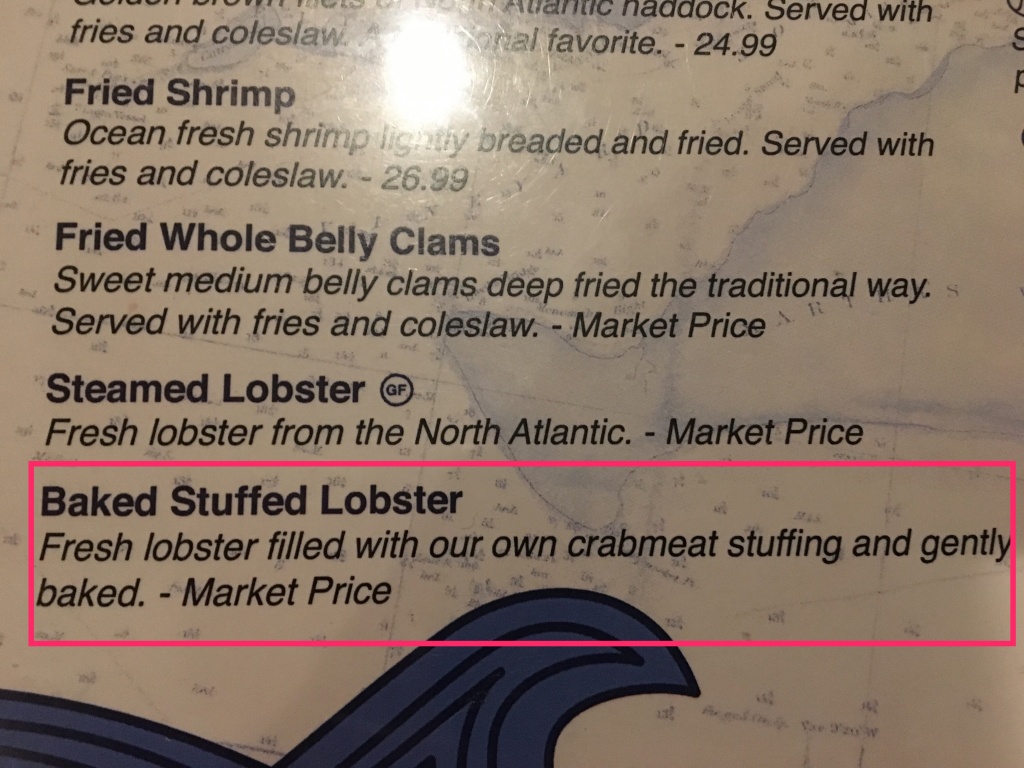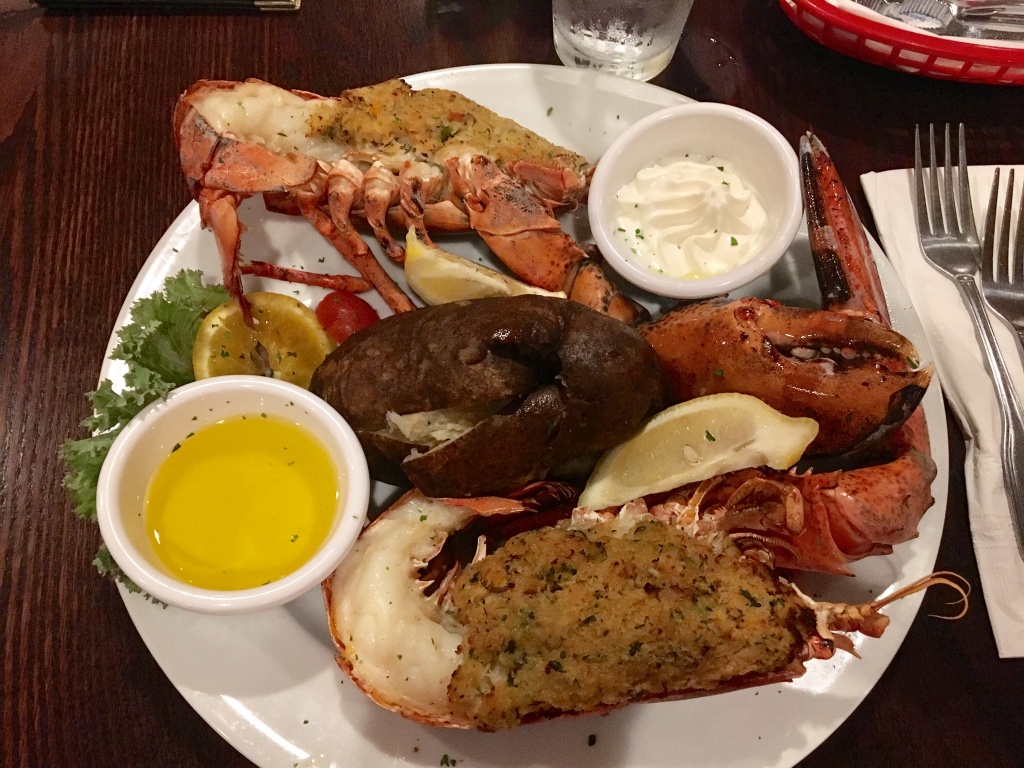 I walked back to the hotel under an umbrella protecting me from the sleep-inducing breeze and drizzle, and I passed a local pub with a bunch of people cheering for some local team or other in some sport or other.