~Tuesday, October 10, 2017~ I woke up before my alarm, and when I looked out the window I saw that the sun was about to rise. I set my phone camera to time-lapse mode and recorded it for posterity. What it looked like as it started: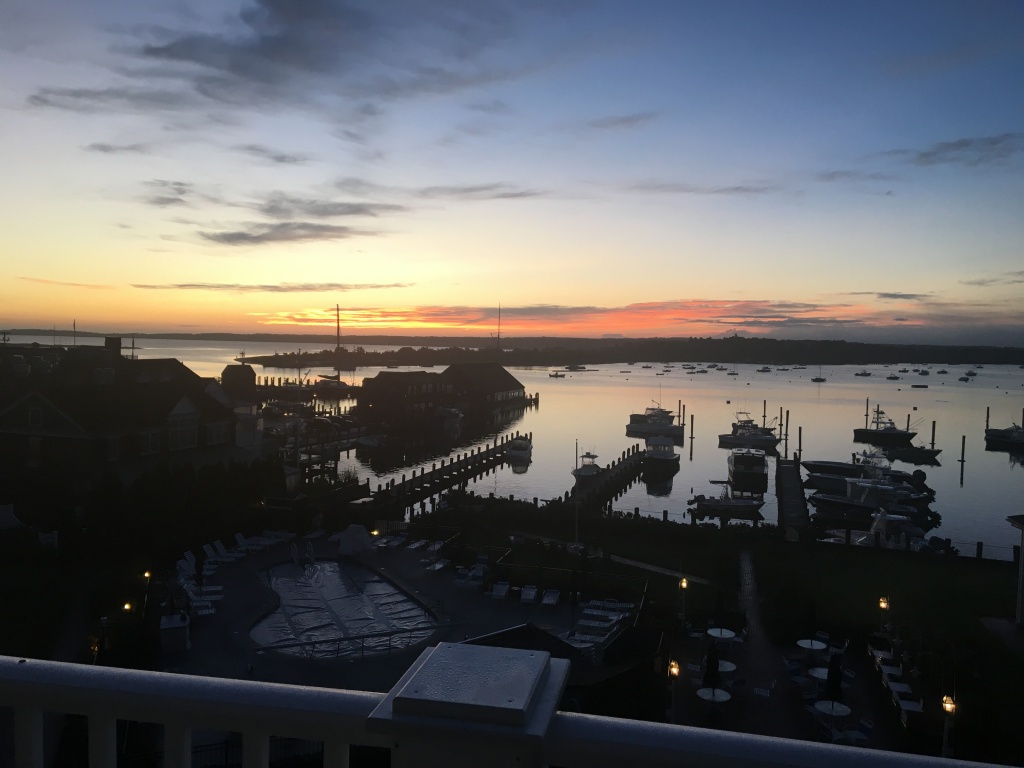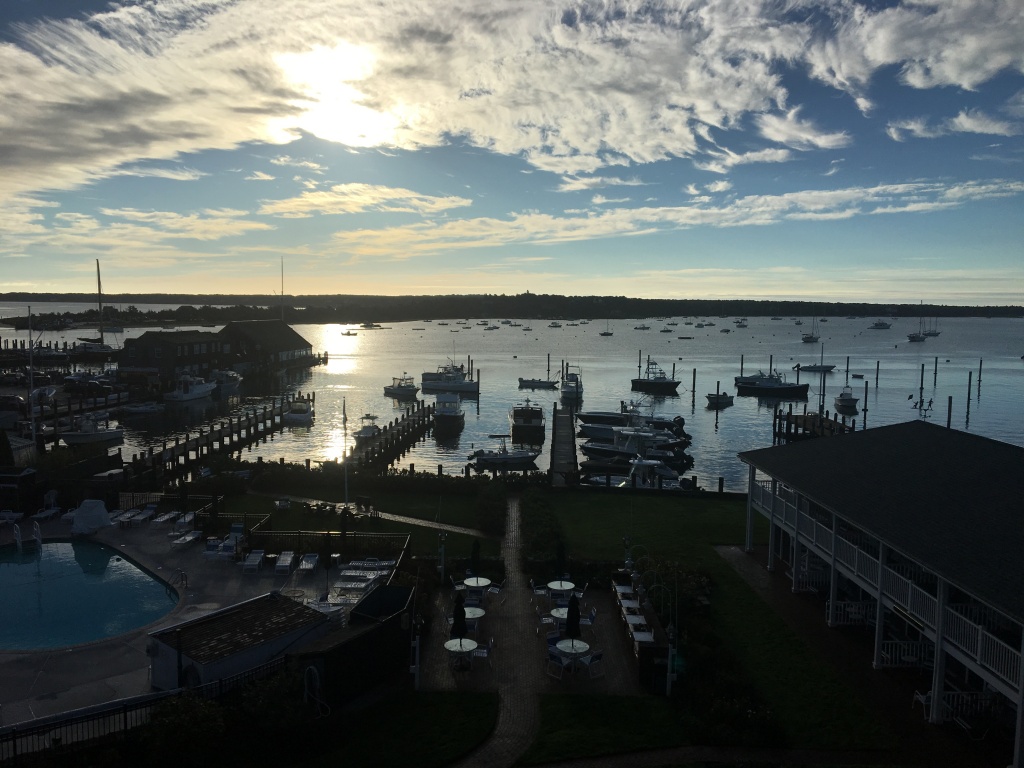 ---
BREAKFAST
I waffled about where to go for breakfast (but didn't have waffles)—between going back to the bagel place or the diner. Murdick's won out. Today I chose a cinnamon and raisin bagel with some garden veggie cream cheese. Once again, the bagel was incredibly soft and delicious.
I took a seat at the counter that faced outside, and after a while a truck pulled up with a classic Portuguese name in the name of its business.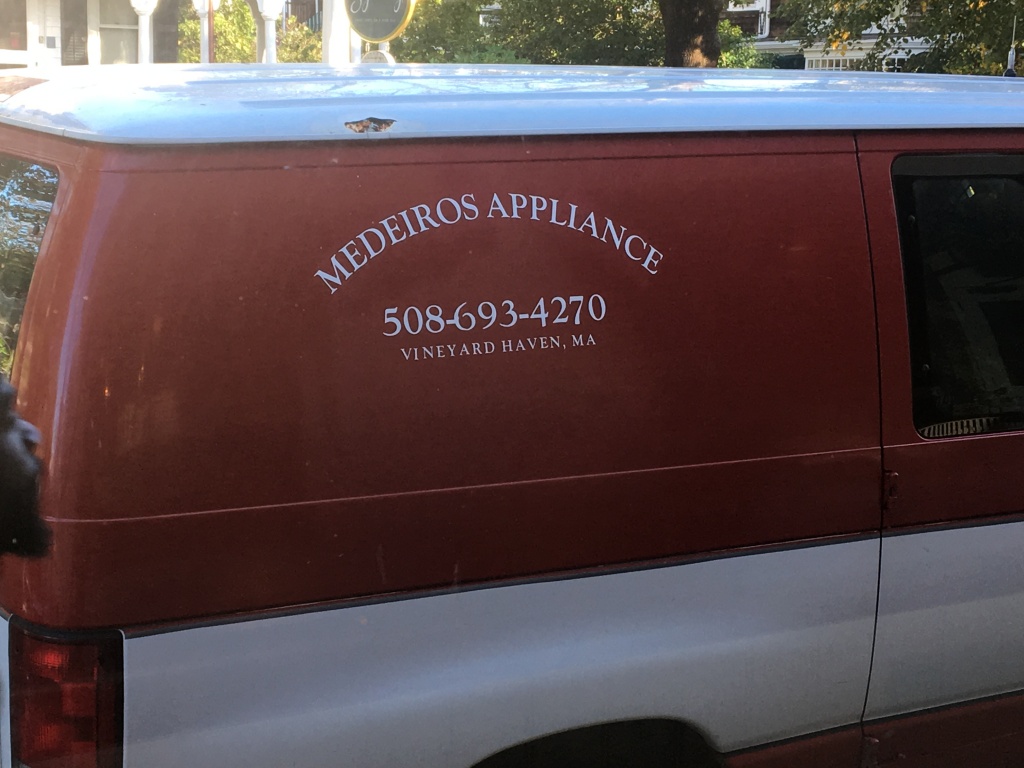 ---
RETRIEVING MY CREDIT CARD
When I went to pay for my breakfast, I noticed that I was missing my credit card, so I walked back to where I had dinner last: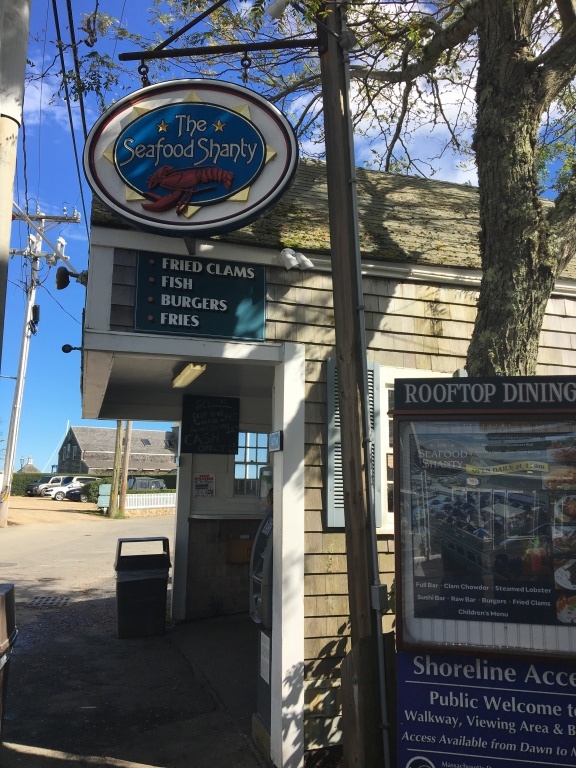 The hostess told me the bartender on the second floor would have any card left there last night, and I was greatly relieved when he found mine in his pile. I had to wait a minute for him to finish making two Bloody Marys he was in the midst of when I walked up, and I found myself drooling when he added the stalk of celery and two huge shrimps—cocktail style.
Back at The Harborside Inn, I captured the doors of two of the buildings that make up the inn, one of which is the one I'm staying in, The Ripley House.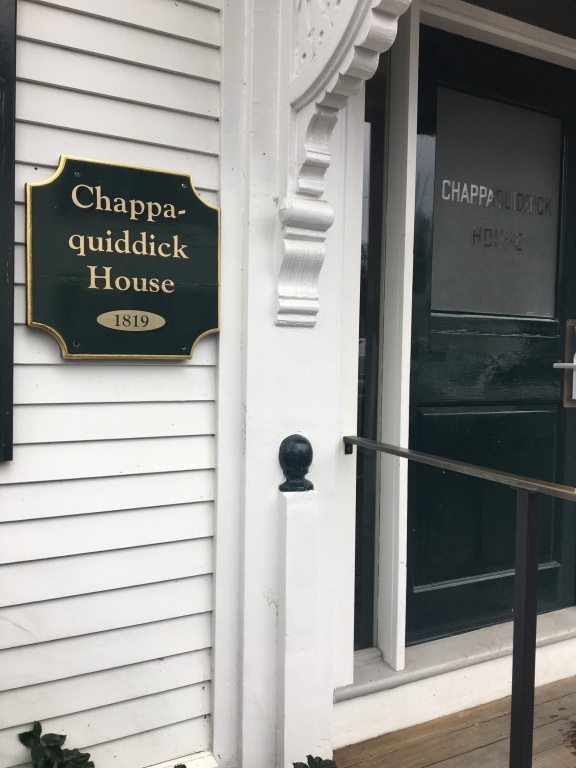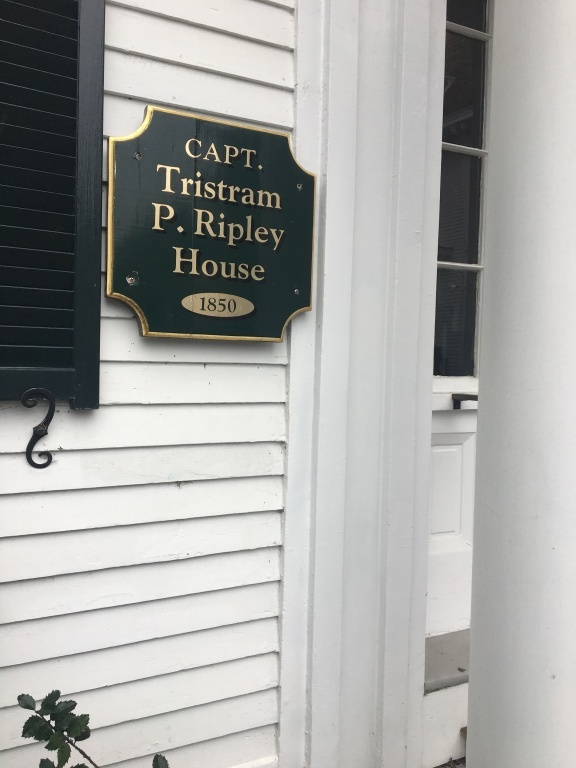 ---
ROAMING THE HARBORSIDE INN PROPERTY
I took some pictures of the harbor in the mid-morning sun and then walked around the conglomeration of buildings that make up The Harborside Inn and took some more:
Looking left from my balcony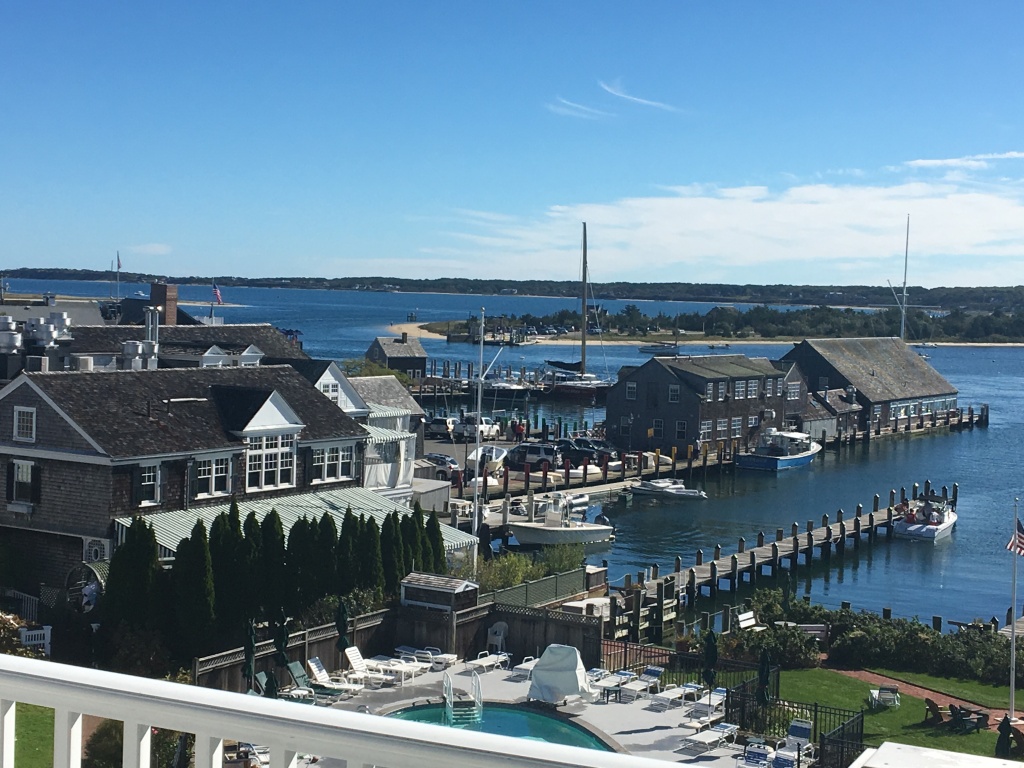 Looking straight out from my balcony

Looking right from my balcony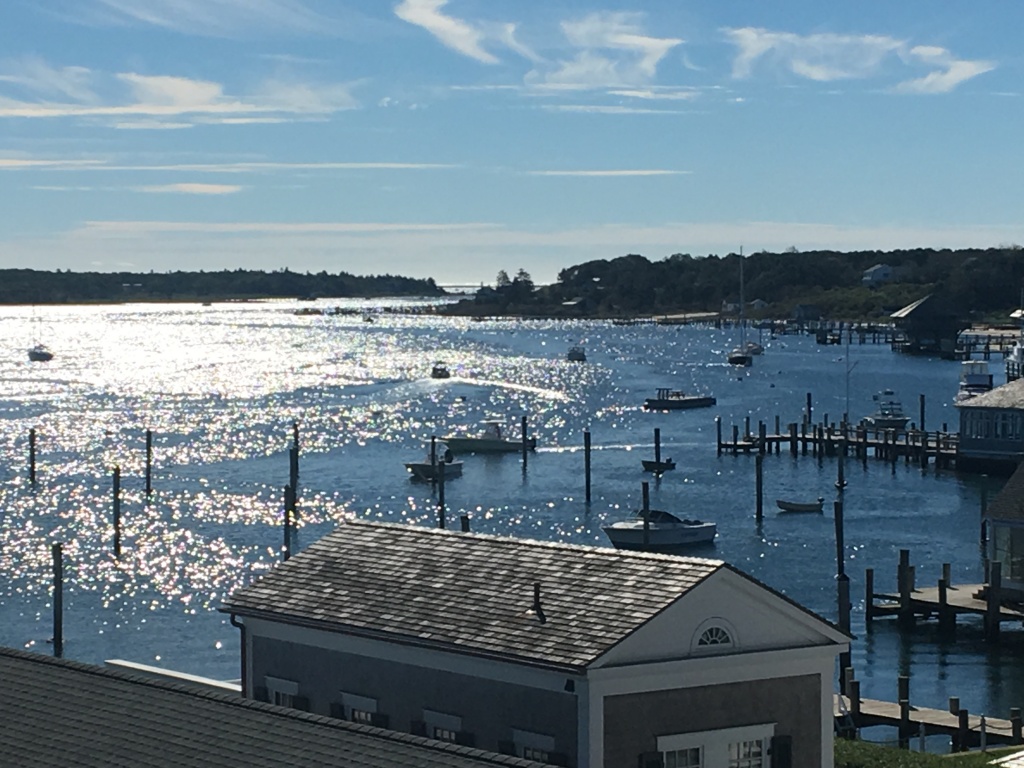 My balcony

Looking to the left below

Looking straight out below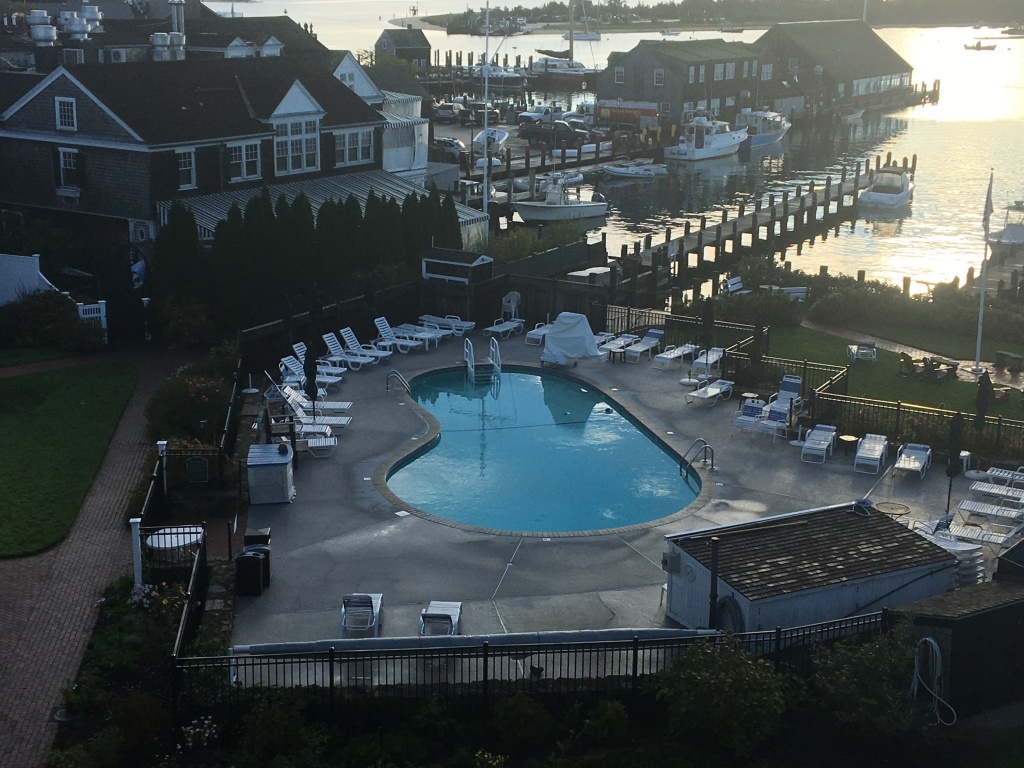 Looking to the right below

Hall door to my room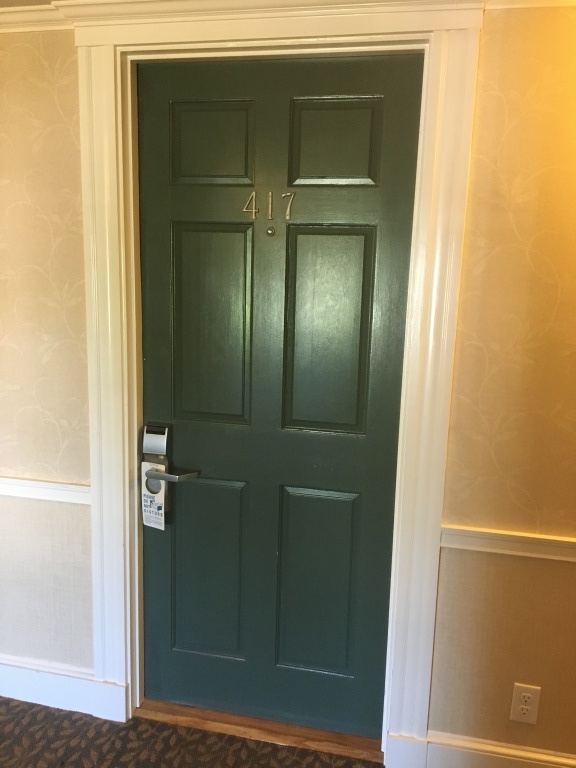 Stairway to my room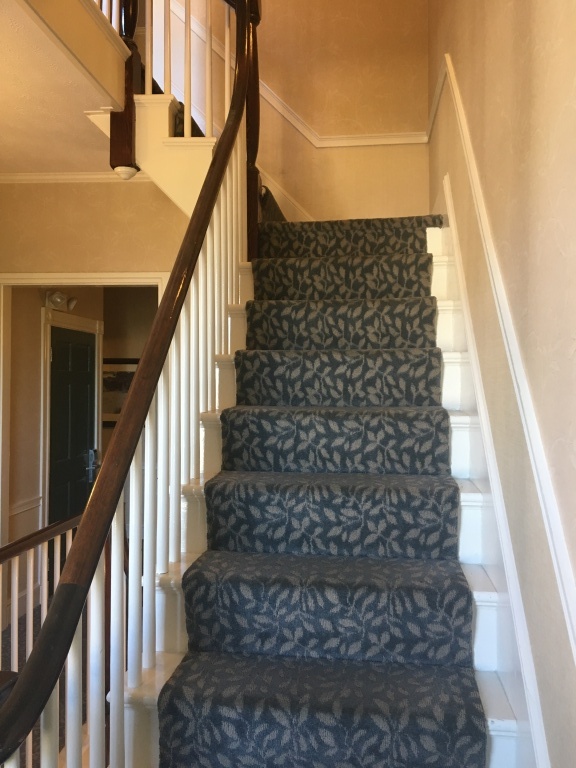 Poolside grills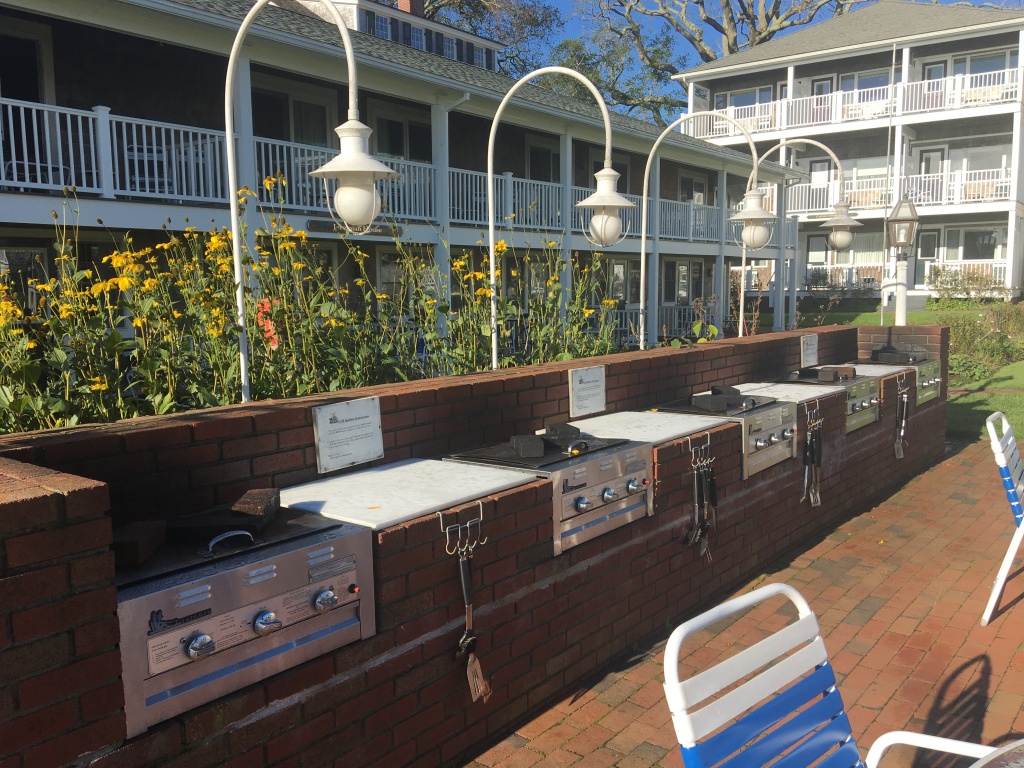 The Ripley House (my room is the top, middle one)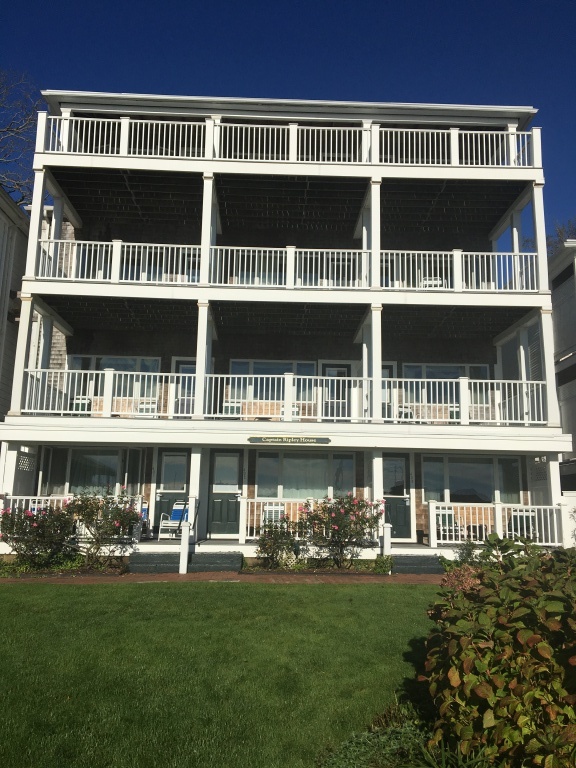 ---
LUNCH AT THE DINER REDUX
On the way to lunch I stopped at Edgartown Books again to pick up a card for the mother of a friend of mine who has asked all of her friends to send cards to her mother for her 87th birthday on October 16. I passed this fabulous item on the way to the card section: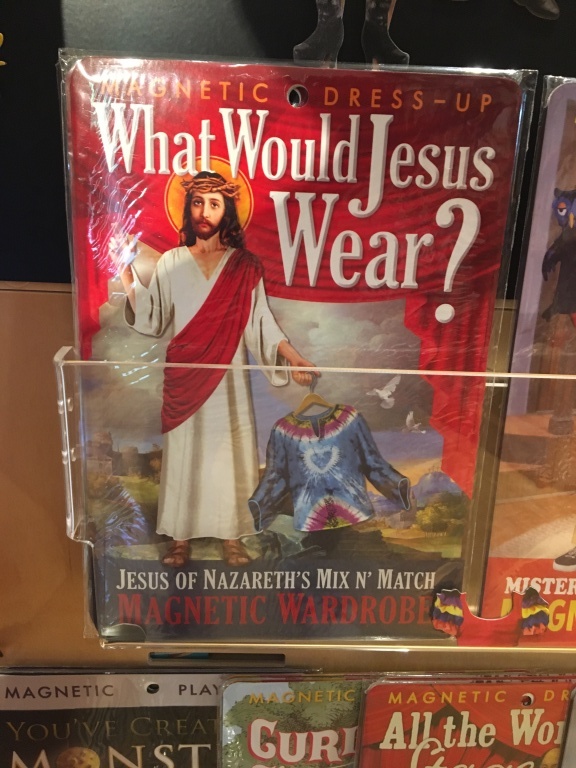 I returned to the diner determined to have something other than seafood for lunch. I settled on the great American hamburger and fries and topped it all off with a coffee-flavored milkshake.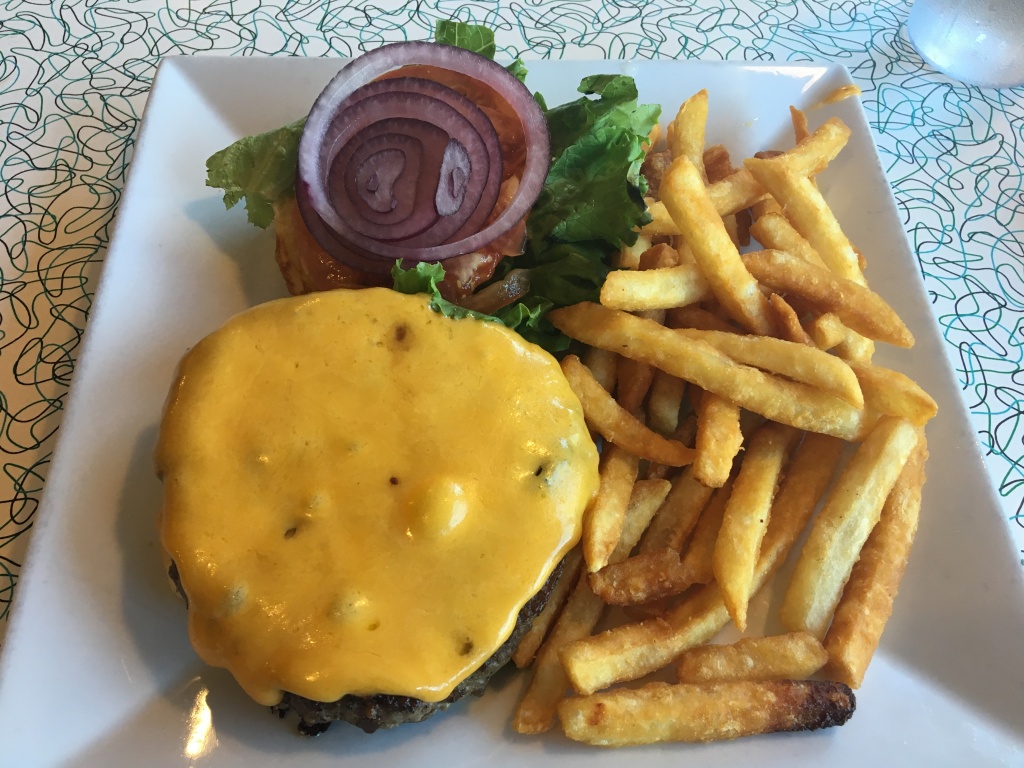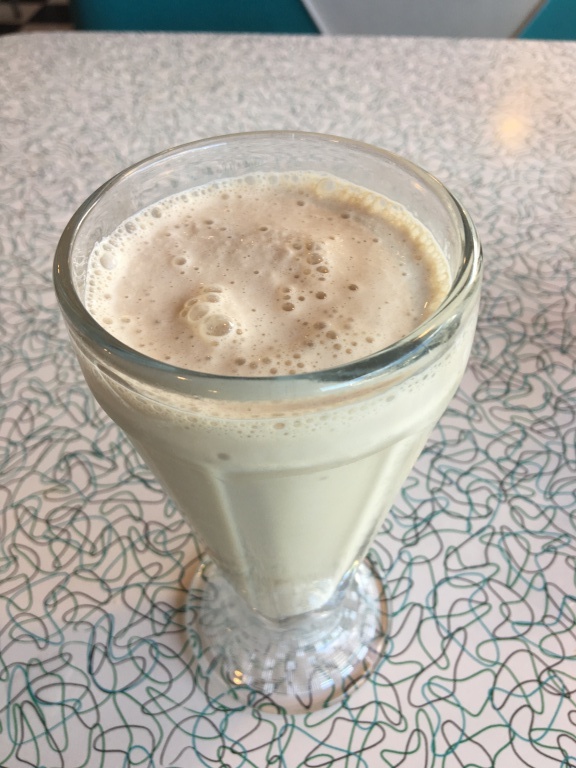 ---
MAKING MY WAY BACK TO THE FERRY
While out walking around yesterday, I found the Edgartown Visitor Center, which is where the city bus picks up, and I found out that I needed to catch the #13 to Oak Bluffs, it came pretty much every hour, and the fare would be $2.50.
So, today, I knew right and where to go. The bus was a little late, but I was catching one an hour ahead of the one I probably could have made it in time on, for this very reason.
Back at the ferry, there was a huge tour group (at least 100, if not 150, people) waiting for the same ferry I was getting again. I listened to several of them having conversations, and in that short amount of time, I'd picked out a few people who would be getting on my nerves if I were traveling with them.
I made this facebook posting about one of them:
PSA: If you fancy yourself a talented whistler, and you do it all the time in public, I'm going to tell you what your friends won't: It's annoying as hell.
I did this same thing—being judgmental about people in a group tour—back in Nantucket at The Nantucket Inn. Ironically, I chose that hotel, and The Harborside Inn that I stayed at here on Martha's Vineyard, because they were the accommodations used for a Road Scholar trip that I'd consider taking before deciding to book this trip myself.
I'm happy to say that this ferry ride was completely calm, I didn't even think about being on a boat most of the way, and it was only an hour long.
---
THE HYANNIS HARBOR HOTEL
When the ferry started slowing down indicating we were close to port, I checked how far it was to walk to my hotel, because I knew it was close by, and I laughed out loud to myself thinking, "If only I could walk on water."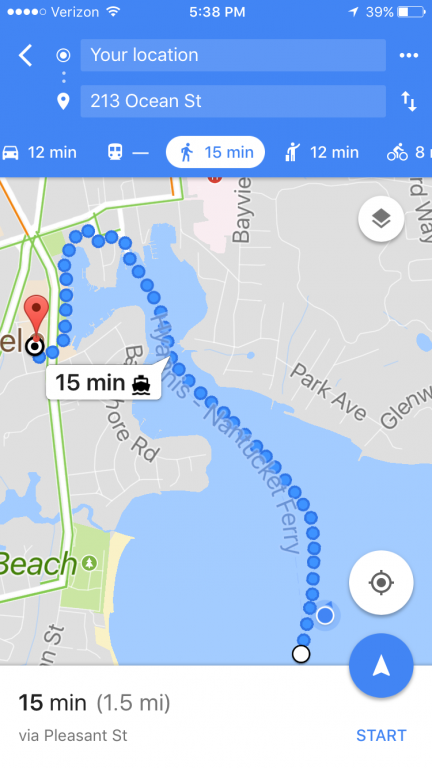 The Hyannis Harbor Hotel was right across the street from the pier we arrived at, which was great. I got this cute little map when I checked in:
Once in my room, I had a few cocktails—I'm committed to not having to throw away any of the bourbon I bought last Friday when I arrived—and I wrote for a couple of hours.
I loved that they'd thought to provide extra outlets for us gadget-loving people in such a convenient way: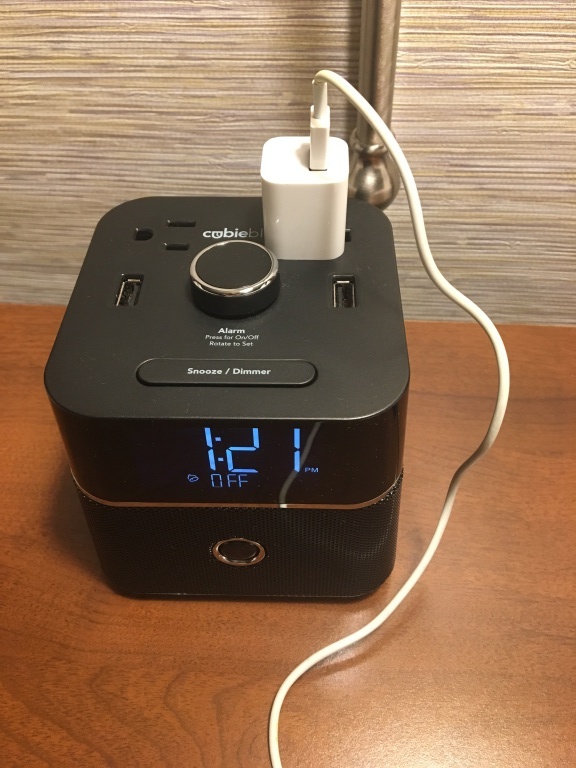 ---
DINNER
At around 7:30, after googling "Gay Hyannis," I set out to have dinner at emBargo—where Tuesday night is ½-priced tapas night.
On my walk, I passed the local library, which I so would have stopped in if it were open. I love visiting libraries in the towns I vacation in.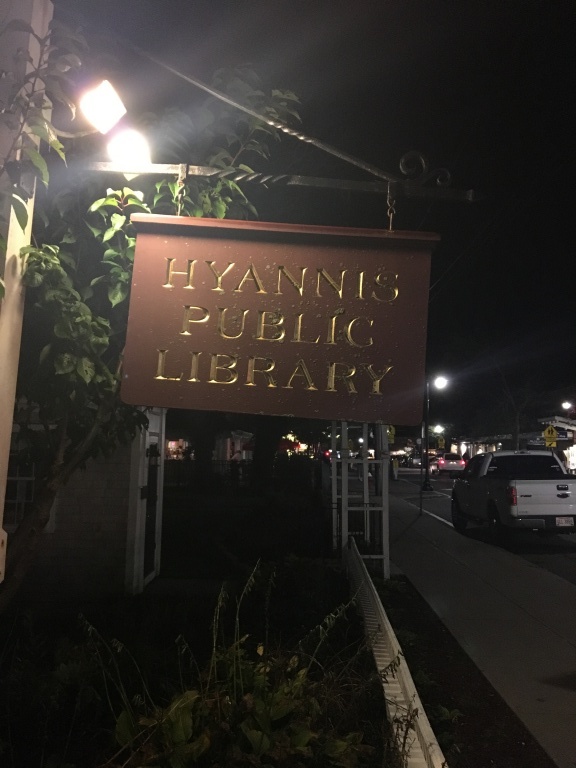 I also passed the JFK Museum, which I would have stopped in, too, if it were open or if I were going to be in Hyannis longer.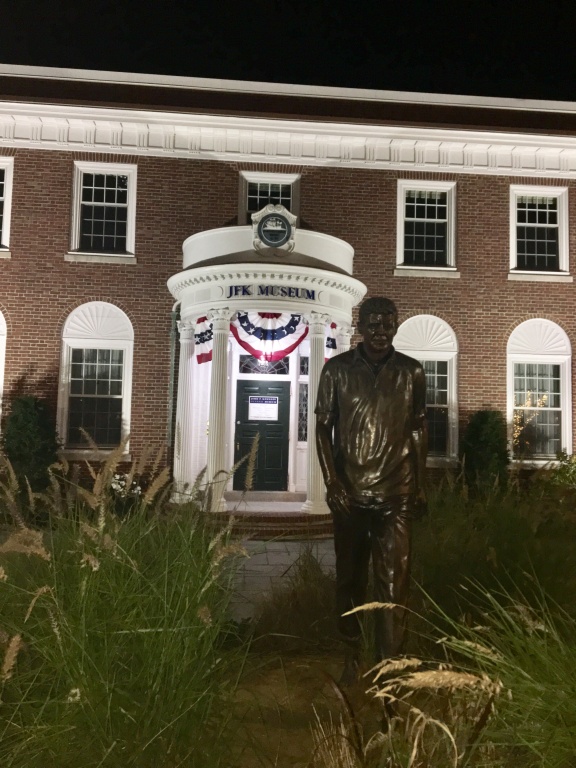 I arrived at my destination, and I liked the way the sign emphasized the word bar in the middle of it. Where I'd seen it advertised, it was written as "emBargo," which didn't really capture it.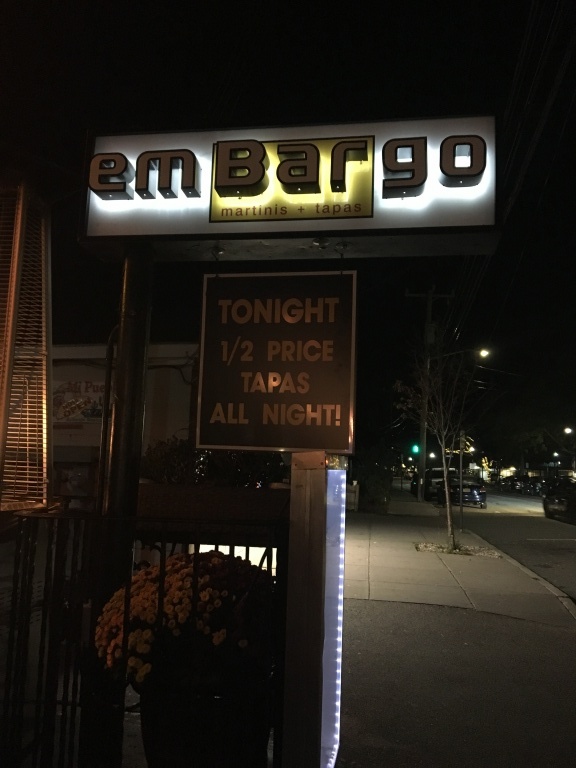 The bartender explained to me that not all of the tapas on the extensive list were half-price—that the ones that had an asterisk by them were not. Those aside, the list was plenty long enough to easily choose two that I wanted to try: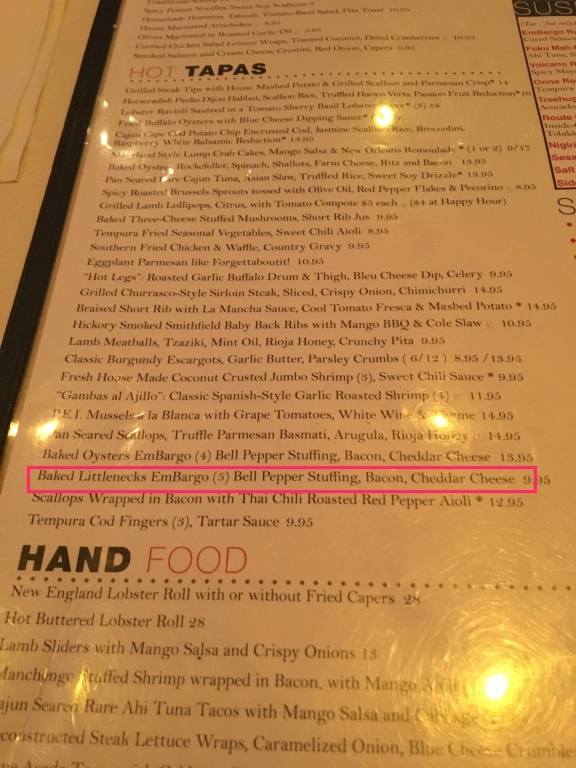 a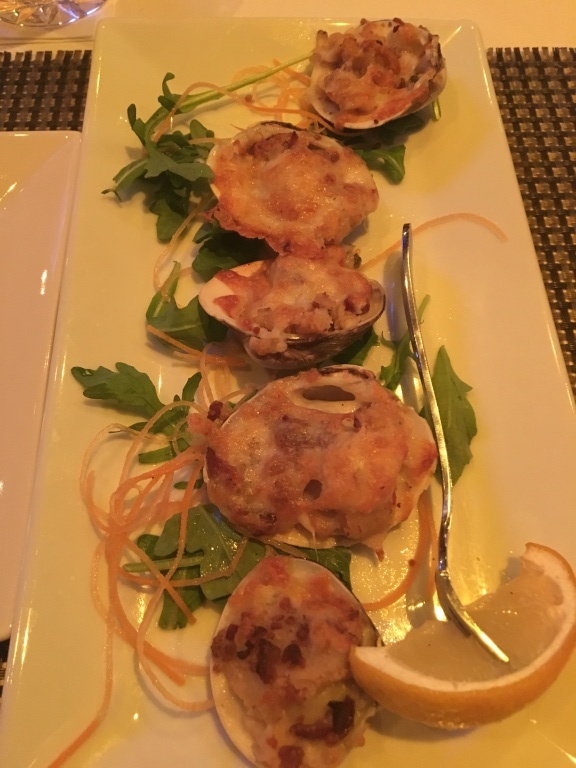 I considered getting dessert there, but I neither wanted anything that would stuff me nor break the bank, so I decided to wait. I asked the waiter if it was going to get "any gayer than this" in here, which would mean "gay at all," and he laughed saying there was a drag show at 11:30 and that I should stick around.
Seeing how it was only 10:00, I didn't want to wait around that long, so I left. Once outside I walked past a convenience store and got the hankering for an ice cream sandwich, which met both of my criteria—wouldn't make me stuffed or break the bank. It was perfect.
Walking back to my hotel, I felt my back pocket where my wallet was and panicked, because it wasn't there. I thought, "Oh my goodness; I must have left it on the counter when I paid for my ice cream sandwich."
I turned around and headed back, but then felt down in the bottom left pocket of my cargo pants (so many pockets, so little time), and there it was. Whew!
---
LATE-NIGHT STORIES AROUND THE FIRE PIT
When I got back to the hotel, the huge sit-around fire pit was going (pretty sure it was a gas fire pit) and there were three people sitting around it.
They saw me looking, and said, "Come on over."
There was one woman and two men there. From what I could surmise, the man and woman sitting near each other were both on the same tour, but weren't a couple.
The other man sat opposite from them and only participated in their conversation intermittently, mostly to give his take on some matter of the local area.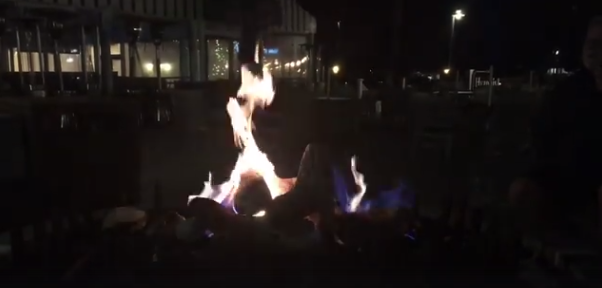 Once the two tourists left, the night grew colder and darker as the remaining man and I talked about a number of things. He was a pilot who hasn't flown for a year, because he's out on disability with knee issues and his response time can't be counted on in dire situations.
We commiserated about failing knees, as I shared about my two arthroscopic surgeries on my left knee, how aging in general pretty much sucks, and how we were both too familiar with elder care and the role reversal that often comes with it.
When I mentioned that my birthday was coming up on Friday, he shared, "Mine was a couple of months ago and my mom died that day."