~Sunday~ And our month-long Cape Cod adventure—working really remotely—comes to an end. It was a nice change of pace, with seeing friends and family the highlight, and we're thrilled to be heading back to our home—with all of its creature comforts—that we love.


We left Eastham, MA at 7 a.m. and pulled into our driveway in Raleigh, NC at 8 p.m. It's a long time for two gentlemen of a certain age to sit in a car, but we persevered and were lucky with the traffic and the weather.
The timer on our car tripmeter seems to be off an hour, just like it was on the way up. It was almost 13 hours to the minute door to door. We stopped for about a half hour in total, so total drive time was 12 1/2 hours.
| | |
| --- | --- |
| Raleigh, NC to Eastham, MA | Eastham, MA to Raleigh, NC |
We were surprised and pleased to learn that the George Washington Bridge toll of $16.00 is only due when entering New York, not when entering New Jersey, so no toll for that on the way home. We exited the New Jersey Turnpike at exit 6, for $16.05, and paid just a couple of other—fewer-than-$5—tolls, at least one of which was a pay-by-mail toll.

At home, we didn't find any invoices for the tolls-by-mail that we hit on the way up a month ago, so we're not sure what's going on with those. We'll pay them if/when they arrive or when we get served a subpoena to appear to pay.
We hit 2 short slowdowns—both due to police handling roadside situations—one for 15 minutes and one for 10 minutes. We pretty much sailed through the NYC stretch of I-95 only slowing down a couple of times to the actual speed limit of 45 MPH in some areas. We purposely avoided any potential fallout of the clusterfuck known as the Million MAGA March in Washington, D.C. this weekend by taking the I-495 inner loop around the city instead of 95 through the city.
We made 2 stops for gas, to use the restroom, and to eat our signature traveling dish.
| | |
| --- | --- |
| Our first stop | A welcome welcome sign |
| Bob making our lunch | Deluxe divider plates for John's food proclivities |
At our second stop, my "dinner" consisted of our last massa sweet bread roll, which I stuffed a hard-boiled egg into. Bob had just a hard-boiled egg.
My concoction reminded me of the Easter massa breads my paternal grandmother used to make. Hers actually had the hard-boiled eggs hidden inside the bread, not visible like the ones in this recipe picture.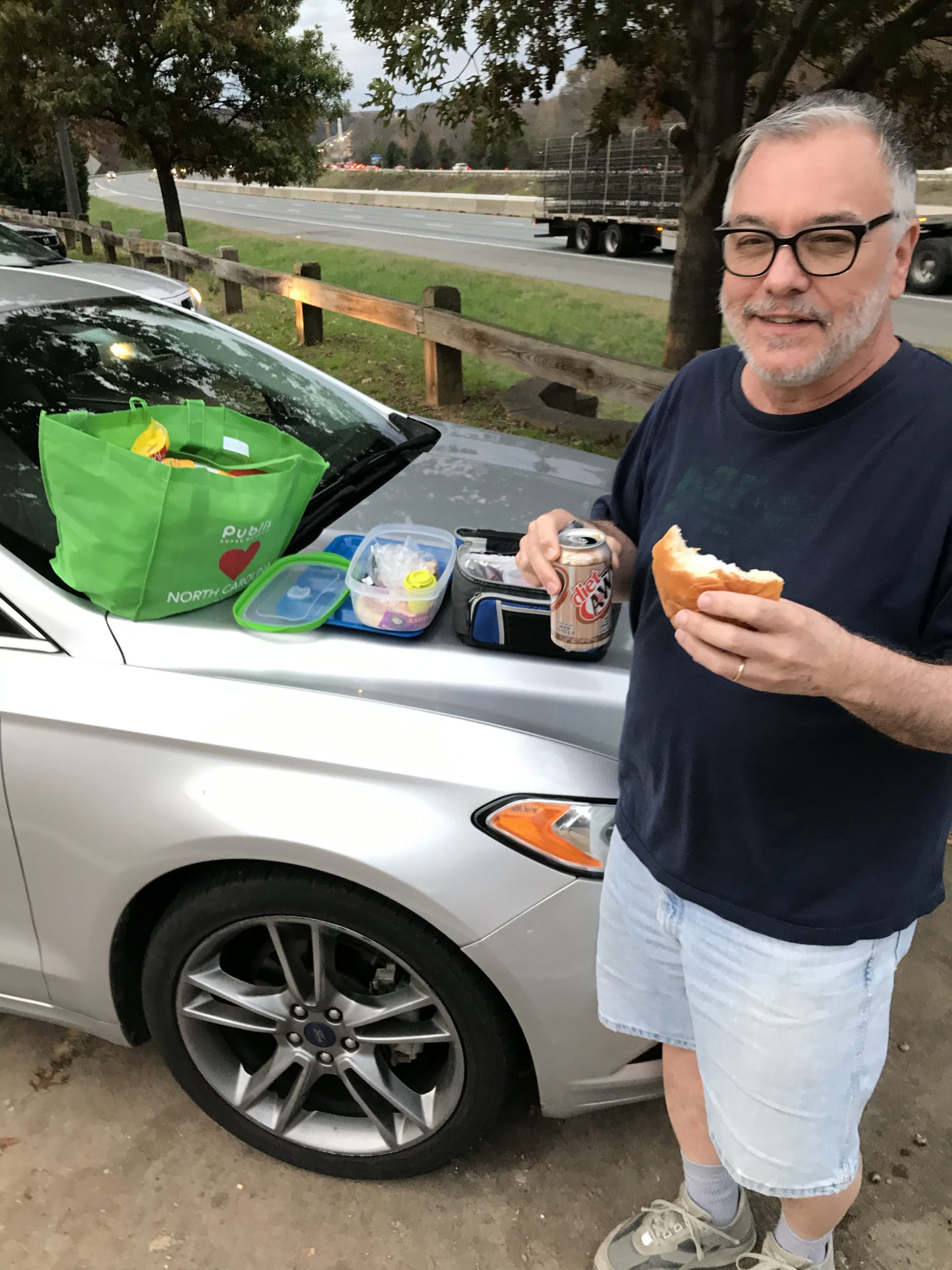 ---
When we first walked in, our home smelled "new"—like the addition had just been finished or something—and it looked so spacious!
We unloaded the food and kitchen stuff first, and Bob started putting all that away, while I unloaded the rest of the car. Then, we both enjoyed a successful-trip-welcome-home cocktail—or two.
We both eyed "the beast in the corner," which we haven't cast an eye upon in a month, and then we weighed ourselves to shockingly find that neither of us had gained what it felt like we'd gained considering we'd done no rigorous cardio exercise for a month, not to mention the less-than-mindful eating we'd done.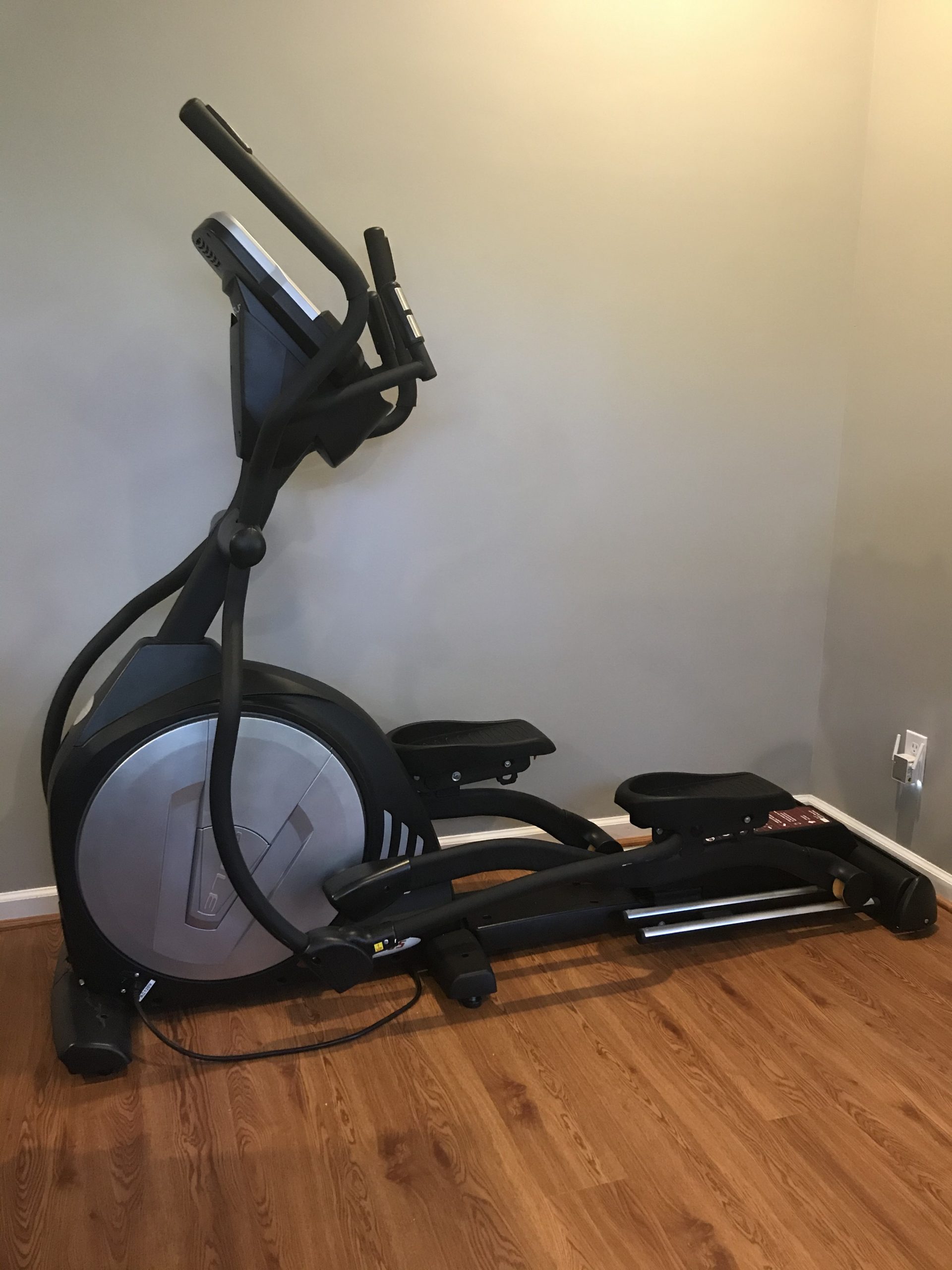 Tomorrow, we'll get right back to it. I intend to get back into my rigorous, pre-trip routine of daily workouts:

---
Thanks for following our adventure over the month. Comments are welcome. They won't appear right away, because I have them set to be moderated to avoid spam and trolls.