~Saturday, October 7, 2017~ I was up at 7:30, and when I opened my door to head out to breakfast, I saw something I'd never pictured in the many times I'd daydreamed about this trip since booking it in June. It was foggy as hell.
---
MOM'S BREAKFAST
"Mom's Breakfast" is included each morning at The Nantucket Inn. When I got to the entrance of the dining area, there was a couple in front of me, and the woman read this sign out loud to her husband:
Then she looked at him and asked, "Does that mean we need to wait to be seated?" Not really sure what tripped her up, as I found the message pretty straight forward.
"Mom's Breakfast" was quite the spread. There were several stations:
One of potatoes, corned beef hash, bacon, sausage, pancakes, and scrambled eggs.
One with yogurt and fresh fruit.
One with all kinds of breads including English muffins, mini-bagels, 3 different kinds of breads for toasting, and several different kinds of pastries and muffins.
A waffle station with some whipped topping for them and 3 different kinds of warm syrups.
One with cranberry and orange juice.
Here are a couple of them: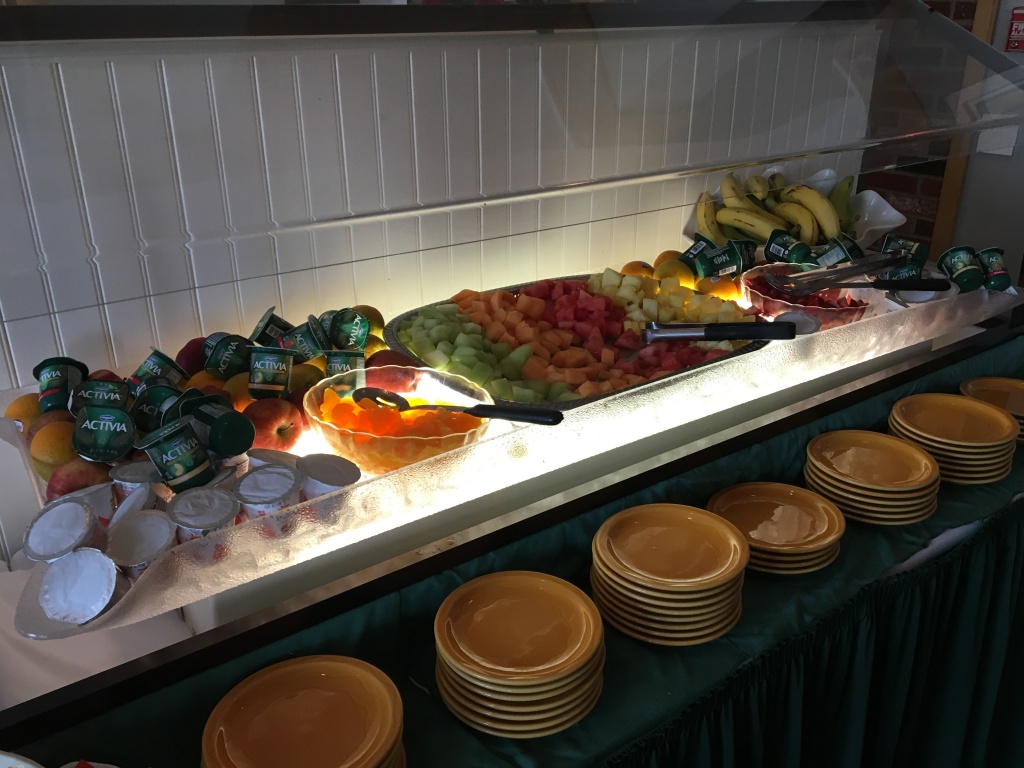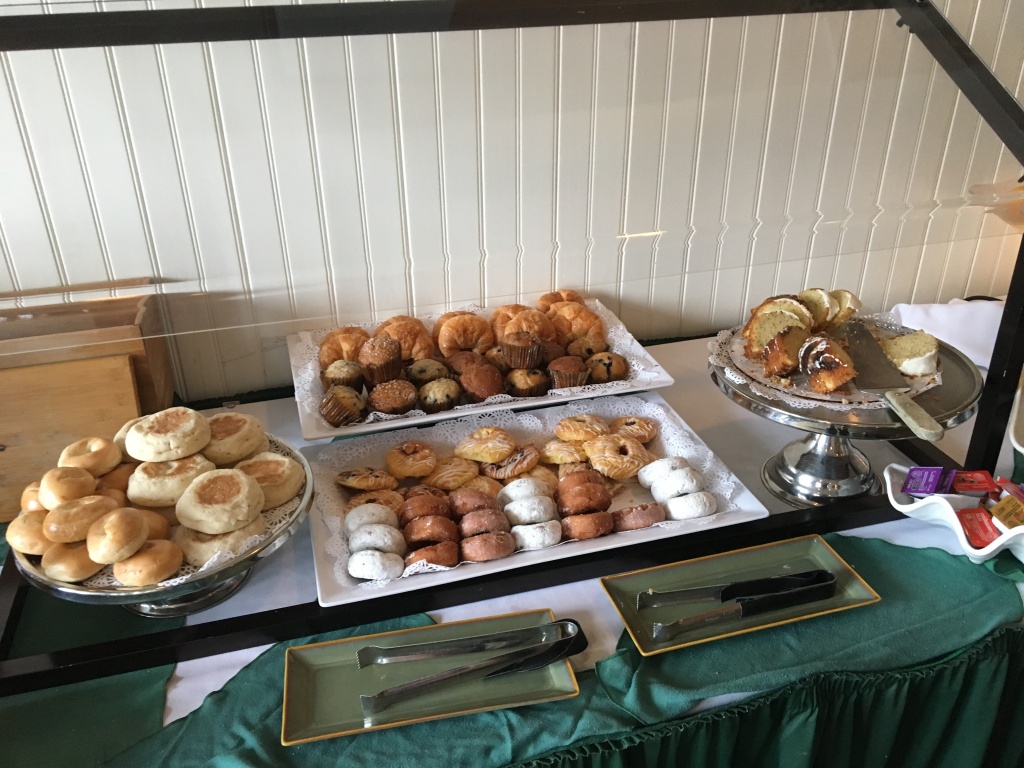 I had this full plate, with a side order of toast, and then I had some of the fresh fruit for "dessert" instead of the pastries.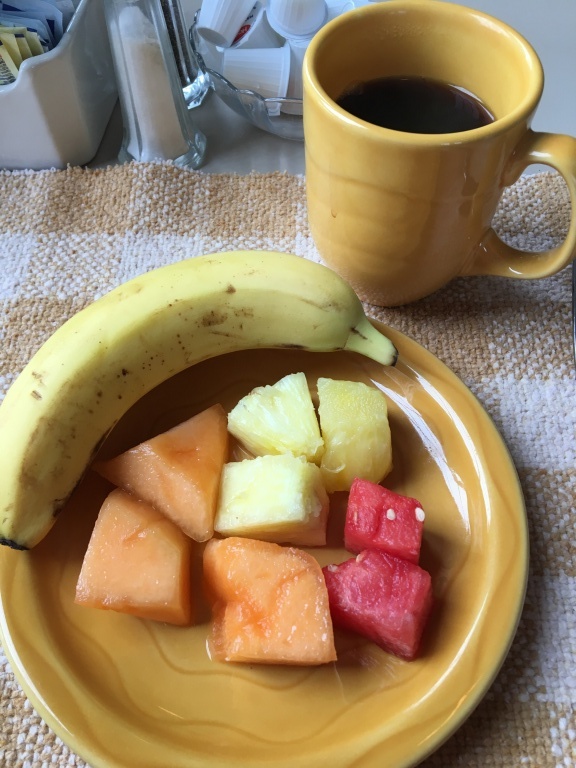 During my time in the dining area, I noted these two snippets of separate conversations:
A lady ran into another lady she apparently hadn't seen in quite a while, and perhaps had even met here during a previous vacation.
First lady: I remember you! It's been a long time. I even remember that you have three kids, three girls.
Second lady: "Actually, I have two now. I lost one."
"You can't just sit there and watch someone clean your house when you feel like doing it yourself."
---
GETTING A WORKOUT IN
At 1:30, I forced myself to go to the hotel's "Exercise Room," which consisted of one treadmill, two elliptical machines, and one stationary bicycle, along with some free weights and one of those all-in-one strength training machines.
A man came in after I was in there for about 10 minutes, and he turned on the TV. He was easily drawn in to whatever show was on, which looked like some kind of documentary. I was glad I had my earbuds with me and my music was loud enough that I didn't hear a single word of it.
I really didn't think I would do 60 minutes of cardio while I was on vacation, but once I was on there and sweating full-hog, I just kept going, burning off 735 calories—probably only half the number of calories I had for breakfast.
Back at my place, I snapped these pictures of it:
---
A LITTLE WRITING
I spent a couple of hours writing Friday's blog entry and reviewing my birthday-related blog posts I'm going to be making this week.
The wifi service is absolutely exasperating at this hotel. I'm not happy about it.
I actually had gone to the lobby area to write thinking the signal might be stronger there, but it wasn't. I asked the registration person if there was possibly a better place to sit for a stronger signal, and she suggested an area where I had to move a wicked wicker whale, and a lamp and turn a chair sideways, in order to use the space.
Late in the afternoon, I googled "Gay Nantucket" and got some ridiculous search results, one of which said there were 10 gays bars on the island. When I clicked on that item, it listed one bar in Hyannis and another one in Connecticut, I think it was. Clickbait.
I decided to take the hotel's free shuttle into town and check out three that actually looked like real places on the island, although from their descriptions all three of them looked like restaurant/bars rather than just bars.
---
MEETING JIM & DAWN
While waiting for the van to leave, a couple walked up who were also going into town in the van. The lady took a seat with me on the bench, and after a few minutes we started talking. We never stopped.
They were celebrating an anniversary here, and I filled them in on the reason for my trip.
By the time we got into town, we were best friends, and they invited me to go to a bar called the Starlight Theater & Cafe, where they were getting a drink before 8 o'clock dinner reservations they had elsewhere.
It was a cool place with an entrance to a little theater, which honestly, reminded me of a theater in San Francisco that played gay porn, and which very few people went to to actually watch any movie. It reminded me of it in looks only, though, not because it was nasty or looked nefarious in any way.
Jim treated us to drinks, and we got right back to conversation about everything and anything. Jim finished his beer before Dawn and I finished our cocktails, and I insisted on buying his second beer.
8:00 quickly rolled around, and since we had talked about gay bars—that I was going out to search for one and that Dawn had never been in one—I told Dawn that if I found one and they'd might want to meet me there, I'd text them where I was later.
Not surprisingly, she was game and gave me her number, which we had a good laugh over, because it contained several permutations of the number "69" in it. What are we, 12?
---
DINNER
I made my way to one of the establishments listed as a gay bar from a different Google search, and other than the hot waiter and only one or two same-sex couples (or at least two men and two women sitting together), it looked like any other bar to me. Plus, I'd characterize it a restaurant with a bar before I'd call it a bar.
It was called The Nautilus, and it was packed. I hadn't even realized it was a Saturday night. It's a good sign on vacation when you don't remember (or care) what day it is.
There were no tables available, and in fact all of them were booked for the rest of the evening. The hostess invited me to sit at the bar, which was also full at the moment, so I just went and stood behind someone to try and order a drink.
A hunk-of-a-waiter saw me having no luck getting a seat and came over to say he was sorry the bar was full, but there would probably be a seat opening soon. I said okay and stepped outside to see how close another place on my list was, when said hunk-of-a-man came outside and said, "Come with me."
A single seat had come open at the end of the bar, and he sat me there. I ordered a bourbon and soda, and the bartender said, "Bourbon on the rocks with just a splash of soda?"
"Perfect," I said.
It took me less than a New England minute to decided on what I was going to get: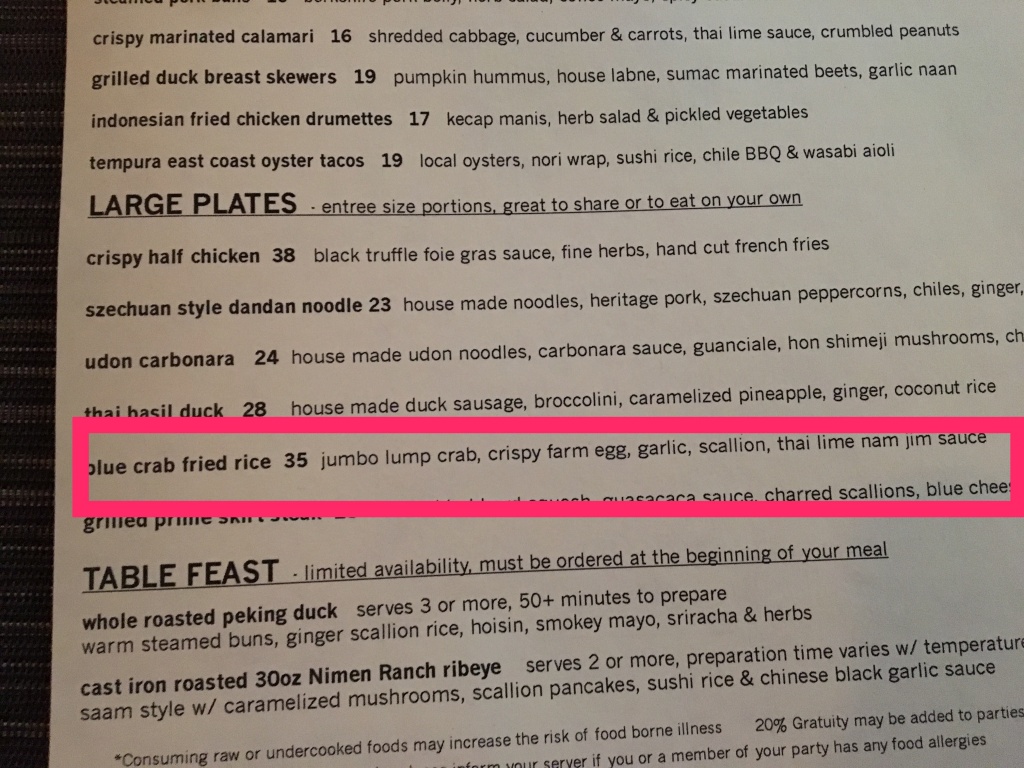 While I was waiting for that to arrive, that waiter who had seated me walked by and I said, "I just wanted to let you know that you saved a customer. I was looking for somewhere else to go when you came outside to get me, so thank you for that."
"I'm just glad a seat come available so quickly for you," he replied.
I ate the hell out of this dish, and I'd have to agree with this Yelp review of the plate, which I didn't see until later: "The blue crab fried rice was out of this world as was the Tuna poke and chicken yakitori noodle bowl."
Before leaving, I asked the waiter if he had a recommendation of a place to go where I could meet some friends, and he said, "I'd recommend Lola 41. There's a bartender there named Germain, but he pronounces 'German'; tell him I sent you."
On the walk there, I came upon an ice cream shop and dropped in for a cone of maple walnut. I had a $5 bill out, sure that it would cover my 2-scoop cone, when she said, "That'll be $7.50."
I thought for that much money, I could at least get some free advice as to whether I was close to Lola 41, and she said, "Yep, just up the street on the right."
---
REUNITING WITH JIM AND DAWN
It was indeed just a few more feet up the block, and I took a seat at the bar. I asked if Germain was there, and a big-gunned bartender said, "No, he's not here tonight; he's doing a wedding. I'm Tom, and this is Amy," he said indicating the bartender now beside him. "You'll do in a pinch," I thought—about Tom, not Amy.
I ordered a bourbon and soda and texted Dawn to let her know where I was. They arrived shortly, and we shared our dinner stories over another cocktail or two.
Jim gave us the 15-minute warning for the 11:15 p.m. shuttle back to the hotel (at least I think it was the 11:15), and we settled our tabs and made our way to the Visitors Center on Federal Street for the pick-up.
Back at the hotel, we promptly sat at the bar and had a nightcap. So thirsty! 🙂
All in all, it was a fun, fun evening, and one that I hadn't at all seen in my future earlier that afternoon. Funny aside: During the course of the evening Dawn confessed to the fact that she had seen me on my laptop in the lobby of the hotel earlier in the day (near the wicked wicker whale) and thought, "What a nerd."